Happy Customer

"Printer looks solid, prints very good quality without making any modifications, easy to use and prints fast, accurate and quality at 70mm / s."-Anthony Joachim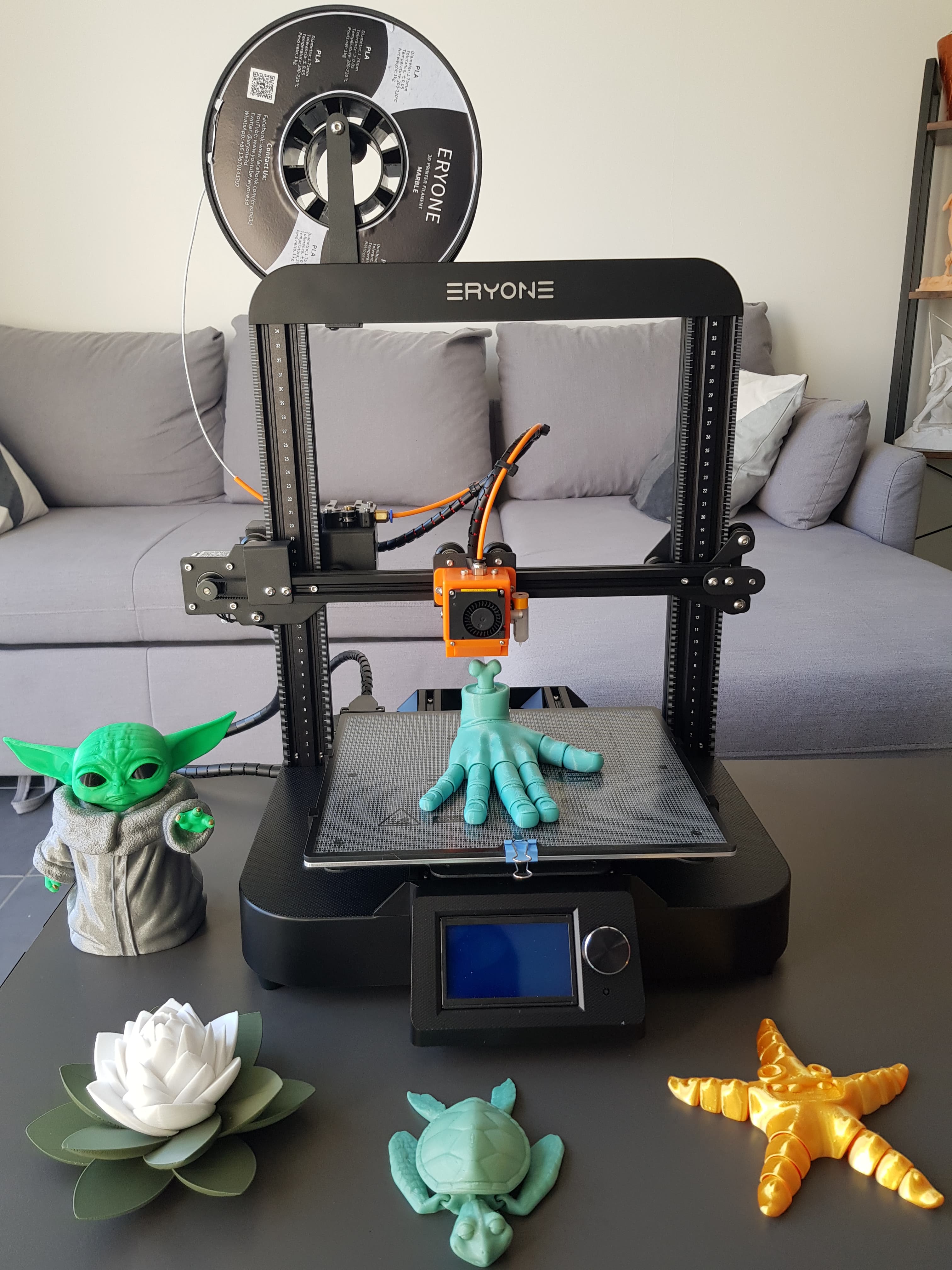 Easy to Use
After months of R&D, Eryone is proud to release the superb ER20. A strong performing printer with elegant simplicity that features a built-in auto-leveling sensor designed by eryone and an in-house designed powerful 32bit board which is the first of its kind for us it also includes 2209 silent stepper drivers. The printer comes standard with an ink-coated glass build plate and dual z rod for perfect first layer adhesion. all of this from a professional and innovative 3d printing manufacturer,the ER20 will be the printer to own this year.
 32   Bit Motherboard

We put Eryone's first in house designed 32-bit motherboard in the Er20. The new Eryone board offers all the benefits of 32-bit processing power giving you faster more accurate print speeds without the bottleneck in computational power that hamper 8-bit boards. 32-bit architecture makes future firmware upgrades a breeze. Plus tmc2209 offers whisper quiet stepper motors and removes the need for axis limit switches thanks to sensorless homing.
TMC 2209 Motor Driver

The new generation of TMC2209 perfectly inherits the performance of TMC2208,and on this basis, lower heat will be generated during operation, which means that the machine runs more stable.not only that, its stallguard no longer depends on traditional limit switches.
Auto Bed Leveling
We all know that bed levelling can be one of the most frustrating parts of owning a 3d printer, the struggle to get that perfect first layer can be difficult. Thanks to our proprietary designed auto bed levelling sensor, no spring and bed adjust knob. 
Because of this design, it reduce the deviation of the bed leveling. then the ery sensor can work more stable and the bed level is super easy and give you the perfect first layer.
Assemble in 10 Mins

Ready to use out of the box, thanks to our ergonomic and integrated design, the assembly is almost plug and play in its simplicity. The 350w branded PSU is located inside the frame for a smaller footprint on your desk or work bench. Whether you are beginner or pro, everyone can assemble the printer in 10 minutes, thats 5 times faster to assemble than previous thinke
Compact Size

The ER20 has a small footprint but fully useable 250*220*200mm³ print volume, weighing only 17 pounds, this is a printer perfect for most home users & on the go.

S P E C I F I C A T I O N S
-Great Build Volume:11,000cm cm3 (22 x 25 x 20 cm or 8.67 x9.84 x 7.87 in) (X×Y×Z)
-Plug and Play ,Easy to use,user friendly, perferct for beginners 
--Built-in PSU,,XY stepper motors, wires
-32 bit motherboard with tmc2209 stepper motor driver( sensorless homing)
-Ink-coated glass build plate.
-Built-in auto leveling sensor
-Dual Z axis 
-Power resume print
-Hot bed with insulated cotton -Bowden extruder
Properties: 
-Molding Technology: FDM
-X/Y/Z axis positioning precision: 12.5μm/12.5μm/2.5μm
-Supported material:PLA,PETG,TPU.
-Average noise:49DB 
-Printing precision from 0.05 mm -0.04mm nozzle for 1.75mmfilament 
-10 meters of white test filament 
-Recommended printing speed:40-70mm/s 
Software Parameters 
File Format:TL, .OBJ, .ADE, .AMF Files GCODE 
Operation system WIN/MAC/LINUX 
Firmware:Marlin 2.0 
File transfer USB/SD card 
Electronic Parameters 
Power supply input 115/230 VAC 50/60HZ
Power supply output +24V 14.5A MAX 
Standby power consumption 12W 
Physical Parameters
Printer Size 396x446.5x449mm 
Package Size 575x540x240mm N.W. 8kg 
G.W. 12.5kg 
Temperatures 
Maximum Nozzle temperature 260 ℃
Maximum hot bed temperature 100 ℃
Recommended nozzle heating time(20~180C) ~1min 
Recommended hot bed heating time(25~60C) ~3min 
Environment Operating temperature :10~32℃
Non-operating temperature: 0 – 32 ℃
E R Y O N E G I T H U B